Last night was really hard for me. There wasn't really any huge thing that made it bad, just a number of little things that added up to make it a pretty disappointing night. When we went home for the night, I left our office just feeling really drained wondering what was going on and why things were so hard. I am working my hardest, I am trying my best to be obedient, why aren't things working out? On the walk back to our apartment I spent most of the time praying and asking Heavenly Father what was going on and what I needed to do to turn things around. We returned to our apartment and I started getting ready for bed.
As I was brushing my teeth and thinking about things, a hymn popped into my mind that I haven't heard for a while. In the LDS hymn book, it is
hymn number 81
, "Press Forward, Saints." I was pretty confused as to why this particular song came so suddenly and randomly into my mind, but as I thought about the words and the message it teaches, I soon realized that it was the answer to my prayers!
Trials come to all of us. They are the purpose for mortality. When hard times come up what do we do? Do we curl up in the corner and let them overcome us or do we do our best to endure through them and press forward? Those who seek to follow Christ and His example press forward. So for all those who want to be true followers of Christ, this is a qualification. We have all been through times, and perhaps may be going through a time right now, when we wonder how it is possible to overcome what we are going through. The hymn that popped into my mind last night, combined with the wisdom of experience, taught me the three main ways that we can press forward through every difficulty that we experience in this life!
Press forward, Saints, with steadfast faith in Christ
The first and most important step in our journey to press forward is to have faith in the Savior, Jesus Christ. Faith that He lived. Faith that He was perfect. Faith that He suffered for us. Faith that through that suffering we can not only be forgiven for our mistakes but also comforted in our times of trials. Faith that He was crucified. Faith that He was resurrected on the third day after His crucifixion. Faith that because Christ paved the way, we can know what is required of us to live with God again. Faith that He is our friend and is willing to help us.
So what is faith? The great Book of Mormon prophet,
Alma teaches
that "faith is not to have a perfect knowledge of things; therefore if ye have faith ye hope for things which are not seen, which are true." None of us were there to experience any of these marvelous events, but we can all feel the effects of them if we put our faith in Jesus Christ. In
His own words
He says, "If ye will have faith in me ye shall have power to do whatsoever thing is expedient in me", including the power to endure and press forward.
The Book of Mormon prophet Alma is a great example of the power that can come through having faith and an abiding trust in the Savior. For many years, Alma and his friends went around destroying the church that his father had worked so hard to build up. After a while, an angel came to Alma chastening him and telling him that if he didn't repent he would be cast off. He does end up repenting and eventually becomes the leader of the Church and one of the greatest prophets and teachers in the Book of Mormon!
Towards the end of his life, in talking with his oldest son, Helaman, he
recounts his experience
and his repentance process. To
preface
his story, he says, "And now, O my son Helaman, behold, thou art in thy youth, and therefore, I beseech of thee that thou wilt hear my words and learn of me; for I do know that whosoever shall put their trust in God shall be supported in their trials, and their troubles, and their afflictions, and shall be lifted up at the last day." Alma then goes on to describe the experience that he had, the pain he felt from his sins, and the joy he felt after his repentance. He teaches of the importance of having faith in the Messiah and shares specifically how the trust he had in Christ was what helped him to be "harrowed up by the memory of [his] sins no more."
It was because of the faith he had in Jesus Christ that Alma was able to turn his life around, be forgiven for his sins, be "born again" and start a new life as a follower of Christ. As we learn in verse 27of that same chapter, this hope also allowed him to be "supported under trials and troubles of
every kind
, yea, and in
all manner
of afflictions". That is the power that comes from having an eternal, unwavering, steadfast faith in Jesus Christ!
Press forward, feasting on the word of Christ.
How do we tap into that same power and strength that Alma was able to experience which comes through faith? In the book of James in the Bible, we learn the answer to this! In
James 2:17
we read, "Even so faith, if it hath not works, is dead, being alone." We are able to tap into this power that comes through having faith in Christ by acting on the hope that Alma explains. Hope is a simple desire, faith is acting on that desire! One of the greatest ways that we are able to have the strength to endure through the hard times that come upon us is to feast of Christ's words--also known as the scriptures!
Throughout the history of the earth, inspired men and women have written down their experiences with God and His ways. Many of these writings have been preserved and are found in the Bible and the Book of Mormon. These teachings help us to know the nature of God, our relationship with Him, and His communications with the authors of those books. Because "God is the same yesterday, today, and forever," these revelations are timeless and are still just as applicable to us today as they were when they were first received.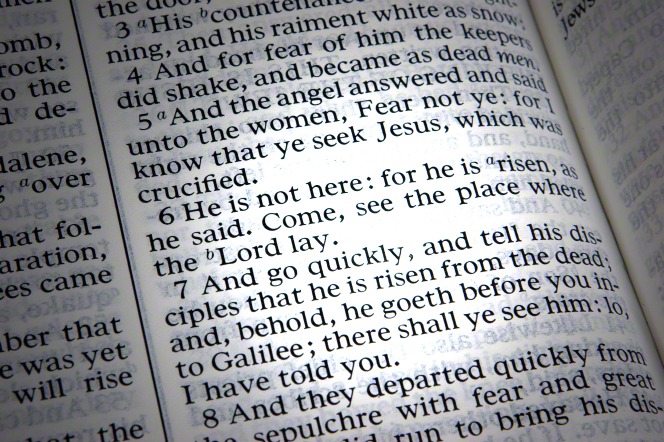 Elder Richard G. Scott, one of the leaders of The Church of Jesus Christ of Latter-Day Saints, has given two amazing talks over the past few years ("
Acquiring Spiritual Knowledge
" and "
The Power of Scripture
") on the importance of studying the scriptures and "feasting upon the words of Christ." Through his talks I have gained a much greater appreciation for the importance of the scriptures in our lives. In one of these talks, Elder Scott says, "Because scriptures are generated from inspired communication through the Holy Ghost, they are pure truth."
Many truths are found in the scriptures and great strength can be found within the pages of these sacred books. In his talk, "The Power of Scripture", Elder Scott goes through the Bible and Book of Mormon and points out scriptures that can provide comfort and strength in times of need. The prophet Joseph Smith and his brother, Hyrum, understood this principle very well. Moments before they were both martyred, Hyrum read from the
book of Ether
in the Book of Mormon to all present to reassure them that God was aware of them and to help them find peace in their time of distress.
Press on, enduring in the ways of Christ.
This example of reading from God's word in a time of trial can be surprising to many of us, but it is nothing new to Joseph. Throughout his life he had been trained on how to always put his trust in the Lord. On one such occasion, while being imprisoned on false charges in exceptionally harsh conditions, the Prophet
despairingly pleads
to God for help. "My son, peace be unto thy soul;" the Lord lovingly says, "thine adversity and thine afflictions shall be but a small moment; And then,
if thou endure it well
, God shall exalt thee on high; thou shalt triumph over
all
thy foes."
I love this promise that the Lord extends to Joseph Smith and to all of us! We will all face trials and hard times in our lives. That is guaranteed. The only question is how we respond to those times. How we respond to them determines what blessings we receive. As the Lord says in that scripture, if we endure those trials well, we
will
be blessed! God
will
exalt us on high! We
will
triumph and have victory over
all
of our foes--discouragement, depression, disappointment, etc. Everything that is holding us down or holding us back. By enduring to the end and following
the example of Jesus Christ
, we will be blessed with strength to overcome them all!
So how do we endure well? It ties back in to the first two principles of pressing forward. Enduring well means to continue exercising faith, to continue repenting and getting our lives in line with God's will, to continue making and renewing promises with God, and to continue seeking God's guidance and direction through the Holy Ghost and through His word as found in the scriptures. That is how we "endure in the ways of Christ"! That is all it takes!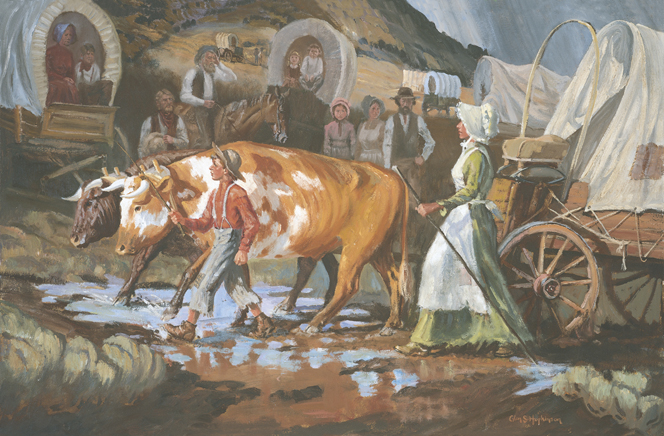 In all reality it is much easier said than done, but there are great promises for those who choose to endure and continue to press on. In the Book of Mormon we can learn of these promises. We read, "Wherefore, ye must press forward with a steadfastness in Christ, having a perfect brightness of hope, and a love of God and of all men. Wherefore, if ye shall press forward, feasting upon the word of Christ, and endure to the end, behold, thus saith the Father: Ye shall have eternal like."
That is the promise! For those who press forward, God the Father promises us that we will have eternal life--living in His presence forever! What is better than that?!? That is the promise that is extended to all who choose to press forward in the face of adversity.
There are three verses to this hymn that randomly popped into my mind, each one talking about a different point in our process of enduring; from the beginning of our process to the end. The first step is to have faith, then to act, specifically feast on the words of Christ, and then to follow the example that Jesus Christ has set for us. This is the pattern that we all need to follow and it is the pattern that will help us stay strong during the hard times and keep us grounded during the easier times. I am grateful that the Lord, in His mercy, helped me learn this lesson in my time of pensive wondering. I know that He answers all of our prayers, just at different times and through different means.